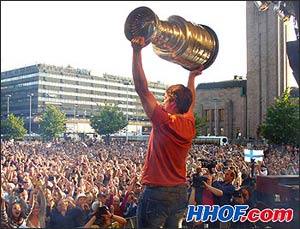 Well according to this article it is looking that way. The 37 year old who had 48 goals last season and 1041 games played in his entire career with 540 goals and 1135 points had this to say:

"Hockey has been a career of life for me, but there are so many other things in life," said Selanne. "Winning the Cup crowned that career. What scares me most is if I decide to keep on playing for something else than my motivation and hockey."
Ya know at least the guy is honest. Could we really blame him for retiring after such a long career capped off with winning the Stanley Cup? He's 37 and has young children...maybe it is time for him to hang them up...and move onto something else.
"Many have asked me, 'why not take those millions?'…but it is not
about that," said Selanne. "I have never played for money, so I will not play for it now. If hockey is not fun, I will do something else."
I absolutely adore Teemu Selanne and seeing him hoist the Cup was one of the greatest things I have ever witnessed. That quote above about money makes me respect him so much more. But, however he and Scott Niedermayer are still stringing us along with a decision...Teemu had this to say:
"I do not think the decision comes out just like with a snap of a finger," he said. "It is taking shape, though. I somewhat know what I will do. I just want to make sure it is the right decision. August is usually the month when I get back on the ice. That has not tempted me, yet. It is a sign of some sort. On the other hand, there still is a month until the start of the training camp and I may get the spark."
Let's hope that Niedermayer and Selanne stay one more year...there aren't many guys like them left.